Introducing the white Volkswagen Jetta. We all love to have our vehicles match our personality. New Volkswagen vehicles make it easy with their myriad body color options. Newer versions of the VW Jetta even offer as many as seven exterior colors for you to choose from. But, if you're more of a traditionalist, we get it. Sometimes, it's good to go back to body-color basics and opt for a white VW Jetta paint job. Other colors may make you stand out from the crowd, but a white Jetta car is a classic in the Volkswagen Cars lineup. If you want a white Volkswagen Jetta, we have the selection here that you're going to love.
View White Volkswagen Jetta Inventory
The VW Jetta History
The Volkswagen Jetta was first introduced to the U.S. for the 1980 model year. It sported a four-cylinder engine that gave off just 76 horsepower. Oh, how far the Volkswagen Jetta has come! The 2020 white Volkswagen Jetta isn't the only model year that can boast the popular white color. The white Volkswagen Jetta might have been a shiny, new, and exciting color choice for the model at the time, but it has since become a classic staple of the model.
Half a dozen colors were available on the original VW Jetta. Perhaps one of the most popular and iconic, however, was the "Alpine White" color variant. You could say that it was the jumping-off point for the iconic white Volkswagen Jetta we know today. You probably won't find a 1980 model year vehicle in our used cars for sale, but you'll find plenty of other years, like a 2017 white Volkswagen Jetta!
VW Jetta Colors
Currently, you can get a Volkswagen Jetta in seven colors, including the iconic Pure White variant. All of your 2021 color options include:
Habanero Orange Metallic (for an extra cost)
Platinum Gray Metallic
Pyrite Silver Metallic
Silk Blue Metallic
Black
Pure White
Tornado Red
So, if you come to us in Daytona Beach, FL, to get a brand new Volkswagen Jetta lease, those will be the options you can choose from (but we all know you secretly just want the iconic white Volkswagen Jetta in Pure White).
According to Volkswagen Newsroom, six colors could be seen in the original iteration of the Volkswagen Jetta in 1980. These were:
Alpine White
Diamond Silver
Black
Indiana Red
Mexico Beige
Inari Silver
Volkswagen Jetta: A Sneak-Peek of the Features
Lucky for us, the Volkswagen Jetta colors don't have any bearing on the power or features of the car. Your 2019 white Volkswagen Jetta will be just as powerful and feature-packed as a silver, blue, or gray one! In fact, in 2019, the Volkswagen Jetta boasted a 1.4L engine that provided drivers 147 horsepower and an 8-speed shiftable automatic transmission. Your white Volkswagen Jetta will also likely see exciting appointments like a nine-speaker audio system with a subwoofer, dual-zone front climate control, hands-free entry, and a 6-way adjustable driver's seat.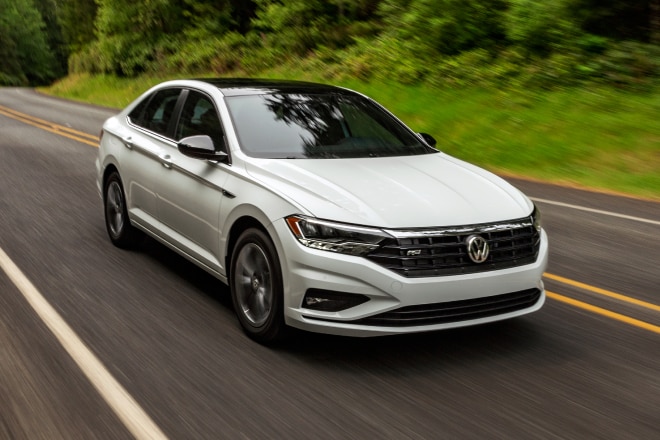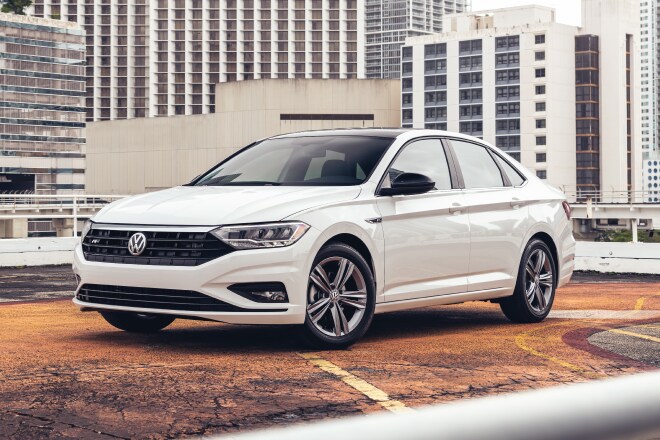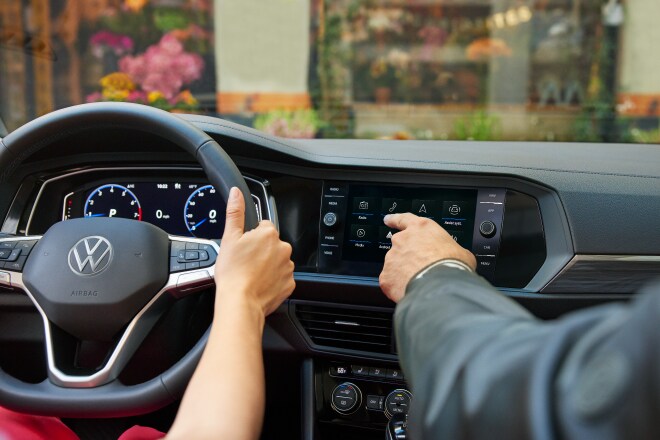 Buy a White Volkswagen Jetta Near Orlando
If you're after the exciting white Volkswagen Jetta, we have plenty of them available for you. We have the newest model years and plenty of used cars available for you as well. Our dealership near Deltona has more to offer than just our amazing selection of the white Volkswagen Jetta, however. We are the place to go for service, financing solutions, and diagnostics. For example, if you see some VW dashboard symbols that you can seem to make neither heads nor tails of, we'll be able to diagnose and fix the issue for you. We can handle all of your Volkswagen vehicle needs. So, visit us today!