2022 Volkswagen Golf R Price, Interior, & Specs
The R in 2022 VW Golf R stands for racing, and with such a solid frame filled with dynamic features, you'll have to beat your fellow local car-lovers down to our dealership to get behind the wheel. After a brief hiatus, the hottest hatchback out there has returned to the top-tier of car options for families that love to get out and go for it. The eighth iteration of the VW Golf model has arrived on its own as the R, making its departure from the Volkswagen Golf GTI models. Learn more about the 2022 VW Golf R specs, exterior colors, interior materials, and more in our guide to a practical ride that leaves sports cars in its dust.
New Golf Inventory
The 2022 VW Golf R Is Here
When the 2022 VW Golf R emerged from the shadows, it brought a complete car for sale at your neighborhood dealership. The fourth-generation VW Golf R offers power and handling reminiscent of the racetrack. Tap into 315 hp and 295 lb.-ft. of torque on the new and improved 4MOTION® all-wheel-drive system.
Lean into a new engine that brings more power to the table in the VW Golf R than ever before. A car with plenty of room for you to pack in passengers and cargo with ease also has speed on the mind at all times. The 2022 VW Golf R 0-60 is faster than you'd expect for such a spacious silhouette. This model can launch from a dead stop to 60 mph in a third-party tested 3.9 seconds. On a similar alignment, the 2022 VW Golf R keeps accelerating up to an on-track top speed of 155 mph.1
As you can see, this speed is nothing to sneeze at, and the upgraded 4MOTION handling system shifts power between the front and rear axles for optimum stability as you take over the road. Multiple driving modes, including "drift" mode, allow you to customize your ride and adjust to priorities, changes in road conditions, and the ebb and flow of surrounding traffic.
Looks As Good As It Drives
Those who want a car with show-stopping style need not fret, as the 2022 VW Golf R colors make your car look like it's ready for race day every time you leave the house. Capture the gaze of jealous onlookers as you glide through your daily schedule without worry and full of artistic accents that clothe your all-important new car with beauty inside and out. The 2022 VW Golf R is available in the following exterior colors:
Lapiz Blue Metallic
Pure White
Deep Black Pearl
Once you're inside this technologically advanced cabin, you'll sink back into comfort and be able to create the driving experience you desire at the push of a button. Melt into Nappa-leather trimmed seats with the new R "Racing" logo stitched into the headrest.
The leather sport steering wheel has available DSG paddles, features blue contrast stitching, and offers touch controls that allow you to keep your focus on the road while making adjustments. The R button allows the driver to easily choose between the various driving profiles. If you press forcefully down on the R button, the 2022 VW Golf R will spring into "Race" mode and provide plenty of pep in its step as you tear through the streets.
Bring your bold side out in a car that's built inside and out to go fast and do it well. The 2022 VW Golf R interior brings plush leather comforts and useful technology together for a cabin that supports you from the time you exit the driveway all the way to your destination and back. Come by our lot to see how the next evolution of hatchback looks in our new VW Cars section.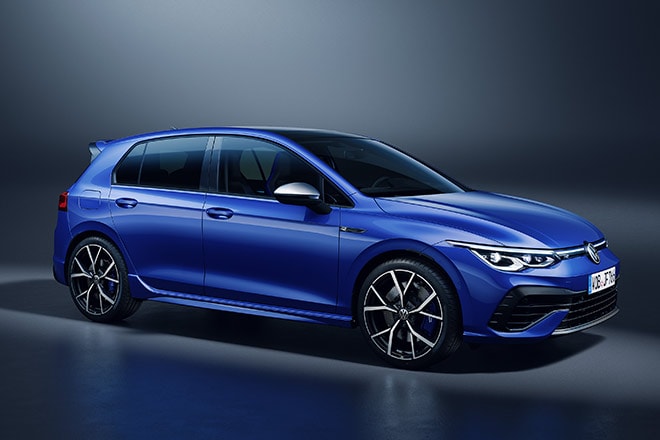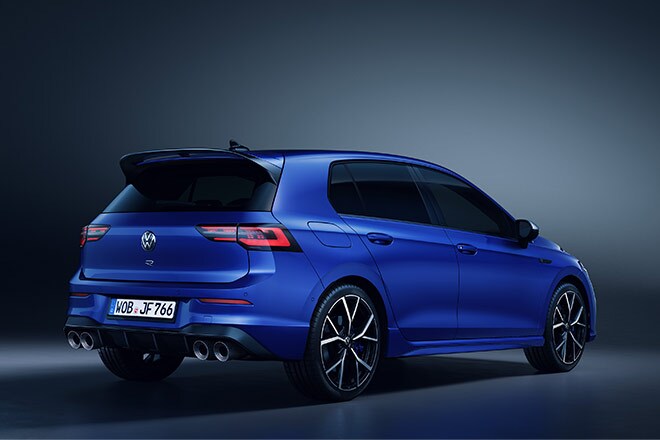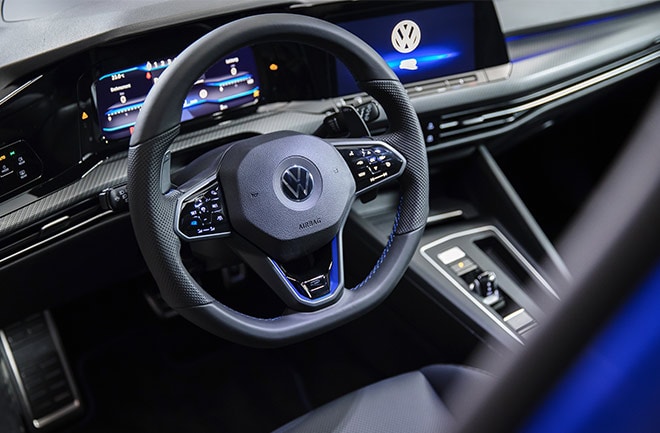 Frequently Asked Questions About the VW Golf R 2022
The 2022 VW Golf R is the latest version in a series of compact cars from Volkswagen that local drivers absolutely adore. Our team members are already receiving questions about the 2022 VW Golf R price, exterior and interior looks, features, and more. Here are a couple of their favorites.
How much will the 2022 VW Golf R cost?
The starting price of the 2022 VW Golf R is competitive against the field of hot hatchbacks, and even then, few OEMs offer what the VW Golf R has. In certain setups from other makes, you'll have to add on pricy packages to get the most out of your car. That's not the case in the newest hatchback model from VW, which has several driving modes that you can utilize to maximize your drive: Comfort, Sport, Race, Special, Drift, and Individual.
Can I preorder a 2022 Golf R?
Preordering for the 2022 Golf R is not currently available. Contact your local VW dealership if you want to be one of the first to know when this heavenly hatchback is finally available. Our team of showroom staff, technicians, financial services, car service staff, parts team, and ownership personnel will be the first to know when a 2022 VW Golf R arrives at our dealership in Daytona Beach, FL. Let them know you're interested in the VW Golf R, and our team will take your information down and be sure to notify you when we have a 2022 VW Golf R in stock.
In the meantime, come down and check out our selection of new and used VW inventory to see if something we have on deck right now could be a great fit in your driveway.
Will the 2022 Golf R interior be getting a redesign?
Volkswagen didn't take a year or two off from the Golf model just to twiddle their thumbs. This Golf R is a clear step forward from any model that's come before it, and that's true under the hood, outside, and inside. As soon as you sit down inside the digital cockpit lined with helpful features and leather seat lining, you'll know this is different. New Volkswagen models like the 2022 VW Golf R and 2022 Volkswagen Taos have premium comfort for both passengers and the driver.
Come down to our do-it-all dealership today, and you'll be able to capture a sense of adventure in a car that's always game to grab the day's adventure by the horns. Go fast and look good doing it in the 2022 VW Golf R.
Shop Other New Volkswagen Models For Sale:
Make an Inquiry
---
1Top track speed electronically limited in U.S. Always obey all speed and traffic laws.